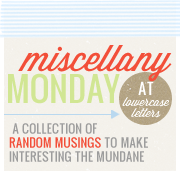 Good Monday Morning, I am too drained and tired to think of anything to say today, so I am linking up for the first time with Carissa @
lowercase letters
1. I. AM. EXHAUSTED.
I really am getting old. I am unbelievably tired today, and this is after getting a full 8 hours of sleep last night and having a nap yesterday. I have no idea how I used to go out on Friday and Saturday nights staying out until 3 in the morning and waking up the next day like I had gotten a full nights rest. This 26 year old sure wouldn't be able to keep up with my 21 year old self. No sir. After partying this weekend like I was 21 again, I plan on taking it easy for a long time...how old am I??
2. I NOW HAVE A WASHING MACHINE
Yay!!! After the explosion of my dear washer, I now have a new one...well new to me. It's wonderful. I am pretty sure I have washed everything I own...even if it didn't need washing. Oh, how we take such luxuries for granted.
3. SPRING BREAK
For the first time since I have graduated college ( 4 years ago) I will not be having a spring break. I don't think I like this. I have worked in a University setting since I graduated....that is until now. Bummer.
4. MY BABY BROTHER
turns 18 in less than a month. This makes me sad. He graduates in two months. This makes me a blubbering idiot. If I am not in a relationship or something like that when he graduates he is putting me on a dating website. This gives me anxiety. Who wants their 18 year old brother to fill out a dating profile for them? Lord, help me.
That's all folks...now if you will excuse me, I am going to try and find a place to hide and take a nap at work...it's allowed, right?