That's right...March Madness is upon us. I always wondered why they called it madness...but now I completely understand. People go crazy over this. It's intense stuff, choosing what teams are going to win and what not. I, personally have never enjoyed March Madness, I don't really get into basketball that much. In fact, I get so pissed off at March Madness because it comes on when I dvr Young and the Restless...and when I go to watch my show and see that it recorded basketball...I get angry. I gots to know what is happening in the lives of Geno City.
I do however watch it when OSU is playing, but once they are out, I am over it. I will say this, when I was going to college we, as in OSU, made it to the final four. Now, that was pretty freakin awesome.
This year is different. I am actually excited to watch the games or at least pay attention to see who wins. Why, you should ask. Because, this gal has a bracket. A full on ESPN locked in official bracket. Miss Football invited me to par take in some friendly competition with her ESPN group, and I created my very own bracket. Yes, I am quite excited.
In emailing Miss Football my picks, she informed me that I must blog about this. Apparently, I pick my teams in a very non-conventional way.
I chose my teams based on if I like their football team, the color of the team, their mascot, if they were in any kind of basketball type movie, and if I just had a gut feeling.
I told Miss Football that I had chosen UCONN to win it all, and she asked me how I choose UCONN to win...this is what I told her:
Well, I chose UCONN to beat Duke because I was choosing either a Devil or a cute white husky...I chose the cute white dog.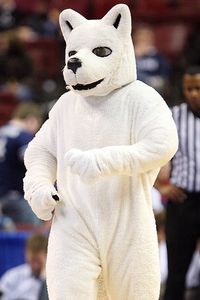 I probably should have chosen Ohio to win it all,seeing how they are ranked #1, but I have Kentucky beating them because Kentucky is where the Derby is and frankly, I don't like Ohio. I have UNC beating Kentucky just because...call it a gut feeling.
I have UNC playing against UCONN in the final, but I chose UCONN because I just like them better.
I have Louisville making it to the final against Florida...I figured a gator beats out a cardinal any day...then in the championship game I have a husky vs. a gator. In my opinion a husky should always beat a gator.
and that is how I got UCONN to be the winner.
And this my dears is how I determined the winner March Madness. ESPN analysts eat your heart out.