I realized that after I posted all my new year's resolutions...I decided I had more.
I mean, it's ok if you have like 20 or so resolutions, right?
New Year...a year to do whatever your little heart desires...that's the way I look at it.
So, what does my heart desire you may ask...besides Matthew McConaughey or just a tall, God-fearing, OSU LOVING, Two-stepping, southern man??
(if you know of one, please send him my way)
Well...it's pinterest.
Yes, my heart desires to FINALLY make all those DIY projects I have in my board. Mainly the ones where I re-do my bedroom.
I have been wanting to re-do my bedroom for quite sometime now, actually I never really decorated when I moved in. I have lived in my house now for 4 years. You would think at some point I would have decorated my room.
I guess it's hard, because I still rent...yes, I know..I am just throwing money into the air...I think maybe this could be the year I buy a house?? You never know.
Anyway, back to the matter at hand...my bedroom and pinterest.
Here are a few bedrooms I have pinned
I like classic and feminine.
Things that I want:
An upholstered headboard.
An Anthropologie duvet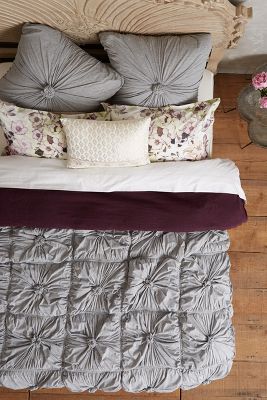 So, since one of my main resolutions is to save a little cha-ching, cha-ching...I've taken to pinterest...
in hopes to make these
Custom headboard
my very own version of an anthropogie duvet
A ruffled lamp shade?
Throw pillows
I am going to channel my inner Martha...not the Martha that goes to jail, but the Martha that sews and cooks and stuff.
Also, I will probably end up recruiting my mom and maybe try and convince my nana to drive up here...I need all the help I can get with le sewing machine.
Wish me luck ladies!