I am trying a new link up today....I think it's a good one : )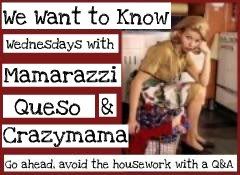 Via
What game show have you always thought you could be on and totally WIN!
Wheel of Fortune and The Price is Right.
When I was little and would stay with my Nana and Papa, heck even now, when I stay with them we ALWAYS watch the Wheel. I love that show, I can solve those puzzles like no one's business.
Price is Right, because I have always wanted to play Plinko. That is my favorite game on there oh and I want to spin the wheel.
Do you have a tattoo(s)? What are they and what made you chose them? If not, would you get one, yes/no/why?
Yes, I have a tattoo. I really have no reason why I choose that tattoo other than the fact that I like hearts and my favorite color is pink. So, yes my tattoo is of two pink hearts on my right hip bone. My mom and I got tattoos when I turned 21 and she turned 40(she may kill me for saying that), she got a tattoo in the same spot. Hers is a pink horseshoe with bob wire.
What is your favorite piece of jewelry that you own?
I don't think I have an actual favorite piece of jewelry. I love all jewelry especially earrings and rings. Love them.
What is your driving pet peeve(s)?
Oh goodness...I have a few. I also have slight road rage. I do not like it when people to not use turn signals. IT IS THERE FOR A REASON PEOPLE!! Also, when you are just being dumb and not paying attention, driving under the speed limit. Just to name a few.
What was your favorite sitcom growing up that you wish was still on?
Going a little old school for one of them...I loved loved Full House. Still love it, I like to watch the re-runs all the time. Also, who didn't have a crush on Uncle Jesse??
Friends...I absolutely love Friends. Still do, I have all the seasons on DVD, I swear you can always relate something in life to an episode of friends. I will have marathon Friends day, I have the Friends game, in college when I thought my apartment was burning down, one of the items I grabbed to save from the fire were my seasons of Friends on DVD.
Some might say I am obsessed.