Helllloooo Firday.
Today I'm linking up with
Ashley
for Friday's letters. It's such a cute idea and everyone is doing it...so I decided to jump on the band wagon.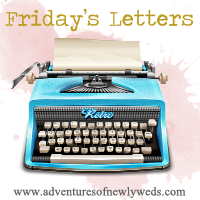 Dear Friday...thank goodness you are here. I've waited all week for you, let's make this day a good one, k? Dear Payday...just like I've waited for Friday...you always make me and my bank account very happy. Dear bills....you suck!! Dear Costa Rica....I will be gracing you with my presence in just over a week..I know you are just as excited to see me as I am you. Dear stupid Celsius temperatures in CR....I about freaked out on you yesterday when I was checking the forecast and it said 30 degrees...thank goodness I realized it was in the wrong format and that the weather there is a perfect 90 degrees...you almost ruined my whole packing situation. Dear mom...you are the best mom ever and I love you to the moon and back. Thanks for always being there for me and for baby brother...you are kind, smart, beautiful, loving, generous and just overall awesome. I hope you have the best Mother's day....Love you!! Dear Bella...your hair looks great, I was worried for you but it turned out quite nice. Phew.
Dear lovely followers...y'all are great...hope y'all have a wonderful weekend and to all the momma's out there, Happy Mother's Day.