Helllooooo there.
Guess what...it's still hot here in Oklahoma...so hot in fact, my car has officially given up and the temperature in my car has been stuck at 88 degrees for days.
I haven't seen 88 degrees since January I'm pretty sure.
Well...car...I feel you, I want it to be stuck at 88 also.
Moving on
Because I've been trying like crazy to get myself motivated and into a solid work out routine and eating clean and trying to be good...but then I see a cookie or a piece of cake and it just speaks to me...I have decided I need to be held accountable.
Well, it just so happens that these pretty ladies
Raven
and
Kristen
are hosting a link up every Thursday called Inspire Me: Healthy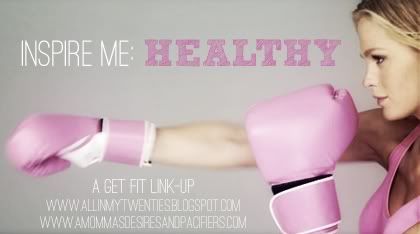 Let's face it...this is perfect for all of us...who couldn't use a little inspiration to be healthy plus we are already all bloggers and check out each others blogs...so this is the perfect way to keep everyone accountable.
This is a genius idea girls...and I'm glad y'all thought of it.
I love nutrition and eating healthy and once I get into a solid work out routine...I love the feeling after a great workout. It's those endorphin's people.
They are goood for you.
I love nutrition so much that is what I got me degree in from Oklahoma State...GOOO POKES!!
However, sometimes I love cookies, ice cream, anything that has 50lbs of sugar a whole lot more...plus eating all that and not moving your body...means lots of extra lbs on this ass.
Not anymore people.
I'm going to be 28 in like 24 days.
I want to finally have the body I've always wanted to have...and it will happen.
None of this self-conscious BS anymore...I want to fit back into my size 4 jeans that are just hanging in my closet waiting for me to finally get off my ass and do something.
Well, size 4 jeans...I'm coming at ya.
So...I will start posting every Thursday about my progress and some inspiration quotes, diet tips, etc. I have already begun this process last week...in fact...don't make fun, but I made my own inspiration board a week ago.
Whatever it takes, right..to be inspired.
I'm going to take my measurements later and I will post those too.
For now...I leave you with some inspiration to get healthy...to be at the best weight, to be toned, to finally run that race and complete that goal...whatever it is that you want to achieve...DO IT!!!
This is inspiring in two ways...who doesn't want those abs...and who doesn't want a guy with those abs...I mean, come on.
Ok...couch and DVR...I have to part ways with you...because it's time this ass fits back into those size 4's.
Peace out.